"Lizzy" - 2015 - Uromastyx ocellata

Maintenant dans une bonne famille! Merci! / Now in a good home! Thank you!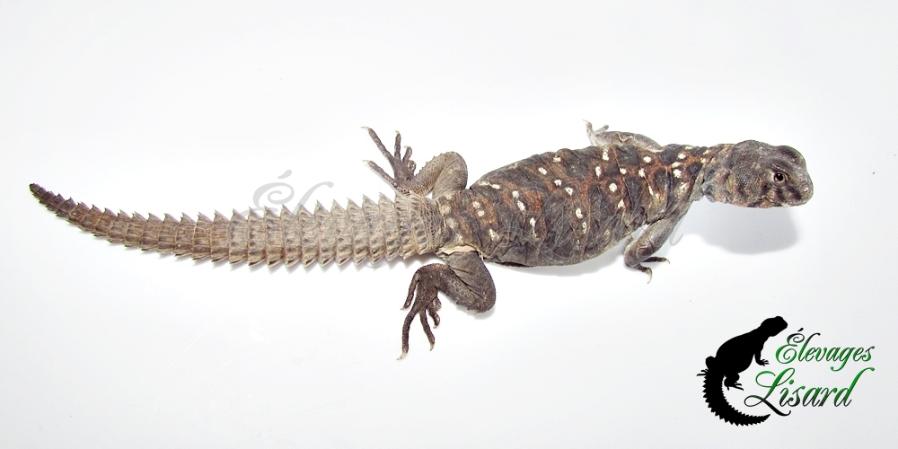 L'histoire de "Lizzy":


Ce petit uromastyx ocellata qui a été nommé Lizzy a été acheté par un jeune homme de 15 ans dans une animalerie. Malheureusement, les informations qui ont été données et le matériel vendu avec l'animal à ce moment n'étaient pas adéquats, ce qui a mené à des conditions de garde inadéquate. Ceci à débuté une maladie métabolique des os dû à des niveaux d'UVB insuffisants. Il a une petite bosse au niveau de la colonne vertébrale qui peut être due à cela. Aussi, ce petit ocellata était très mince à son arrivée chez nous, probablement à cause des températures de garde trop basses. Heureusement, ce jeune homme a fait preuve d'une grande maturité et nous a confié son animal pour son mieux-être.
Parce que Lizzy est encore jeune, nous ne sommes pas à 100% certains du sexe, mais nous penchons vers un mâle. Il a environ 1 an et demi. Lizzy n'aime pas beaucoup être manipulé, mais il n'est pas trop nerveux quand il est dans son terrarium. Il est même très curieux. Il lui faudra un peu de temps pour s'habituer à sa nouvelle famille et il faudra être patient. Pour cette raison, nous croyons qu'il ne devrait pas être confié à un enfant. Ce sera très important de le respecter et d'aller à son rythme. Comme c'est un jeune uromastyx, nous avons confiance qu'il se remettra pleinement de cette mésaventure et qu'il fera un bon animal de compagnie.
Voici de quoi il avait l'air à son arrivée le 13 décembre 2014 (poids de seulement 21g):



The story of "Lizzy"

This small uromastyx ocellata who was named Lizzy was bought by a 15 year old young man in a pet store. Unfortunately, the information that has been provided and the equipment sold with the animal at the time were inadequate, which led to inadequate care. This started a metabolic bone disease due to insufficient UVB levels. It has a small bump at the spine which may be due to this. Also, this small ocellata was very thin when it arrived home, probably because of too low temperatures. Fortunately, this young man has shown great maturity and give us its pet for his well-being.
Because Lizzy is still young, we're not 100% certain about its sex, but we are leaning towards a male. He is about 1.5 year old. Lizzy does not like to be handled, but he is not too nervous when he's in his terrarium. He is even very curious. It will take him some time to get used to his new family which will need to be patient. For this reason, we believe he should not be given to a child. It will be very important to respect him and go at his pace. As a young uromastyx we believe he will fully recover from this mishap and that he will make a good pet.
Here is what he looked like when he arrived on December 13, 2014 (weight of only 21g):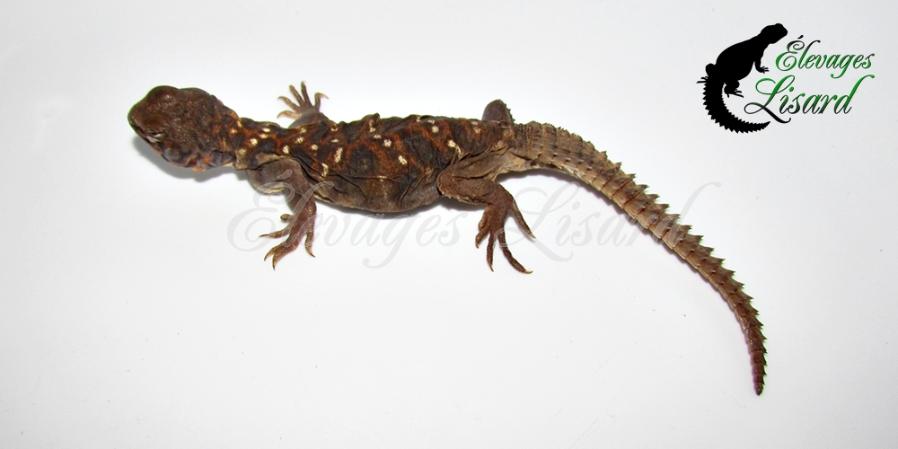 Voici de quoi il à l'air maintenant après quelques mois chez nous (poids de 35g le 14 février 2015). Il est même sur le point de faire une mue:


Here's what it looks like now after a few months with us (weight of 35g on February 14, 2015). He is also about to shed: