Peach - 2015 - Pogona vitticeps

Maintenant dans une bonne famille! Merci! / Now in a good home! Thank you!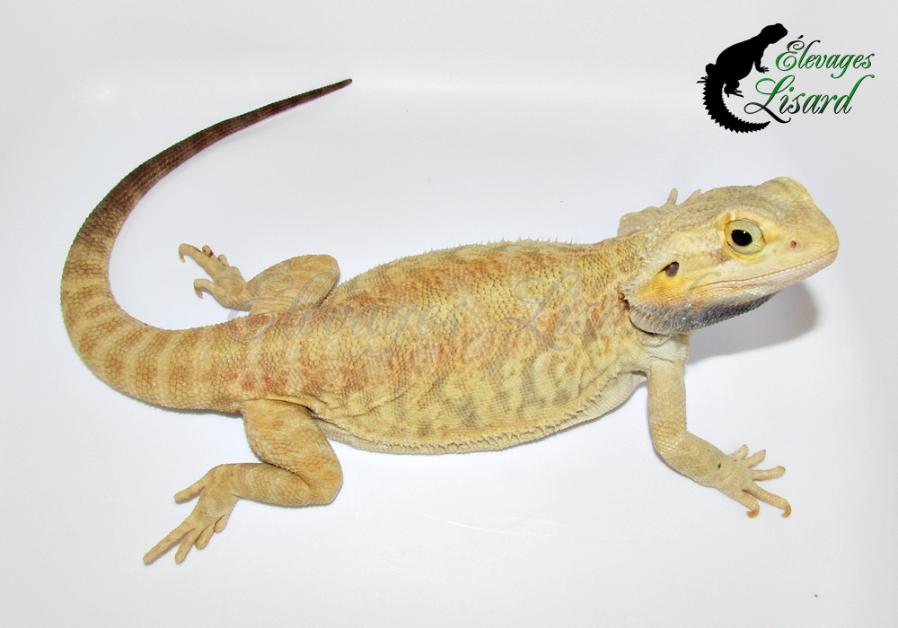 L'histoire de Peach:


Peach est une petite femelle dragon barbu née en 2011, issue d'un éleveur aux État-Unis. Elle est de phase "hypomelanistic translucent leatherback". Nous l'avons depuis qu'elle est toute petite. Ses yeux noirs et sa peau lisse nous ont charmés dès le début. Nous voulions qu'elle fasse partie de notre élevage comme reproductrice. Depuis qu'elle est en âge de se reproduire, les démarches de reproduction ont toujours été un peu difficiles car notre mâle Skittle est beaucoup trop gros pour elle. Très peu de bébés sont donc issus de cette paire : nous en avons eu quelques-uns en 2013 et en 2014.
Depuis l'an dernier (2014) elle a commencé à avoir des tremblements au niveau de la tête. Ceci arrive seulement lorsqu'elle fixe un objet ou qu'elle veut l'attraper (comme lorsqu'elle chasse par exemple). Suite à une visite chez le vétérinaire et une prise de sang, aucun résultat concluant n'est ressortit pour déterminer la cause des tremblements. Ce n'est pas une déficience ou surdose des UVB, ni du calcium, ni des vitamines (toujours selon la prise de sang et les tests que nous avons faits tout au long de l'année (changer les suppléments, les sortes d'ampoules, etc)). Comme nous ne trouvons pas de cause environnementale et qu'aucun autre de nos dragons n'a ces symptômes, nous croyons que le problème pourrait possiblement être de source génétique.
C'est donc pour cette raison que nous préférons ne plus la reproduire à nouveau. L'euthanasie n'est pas une option. Peach mange, grimpe, court, bouge… Elle vit bien et rien nous porte à croire qu'elle souffre due à sa condition. Seul son tremblement paraît et les gens ont tendance à trouver qu'elle fait « pitié », mais au contraire, elle se débrouille comme tous les autres et n'as pas besoin de soins particuliers. Nous souhaitons trouver une famille sérieuse qui saura prendre soin de Peach pour les belles années qui lui reste. Évidemment, nous demandons qu'elle ne soit pas reproduite, car nous ne savons pas si son problème de tremblement est d'ordre génétique.



The story of Peach:

Peach is a small female bearded dragon born in 2011, from a breeder in the United States. She is a hypomelanistic translucent leatherback. We have her since she was little. Her black eyes and smooth skin have charmed us from the start. We wanted her to be part of our breeding stock. Since she is old enough to breed, breeding have always been a bit difficult because our male Skittle is just too big for her. Very few babies are from this pair: we've had a few in 2013 and 2014.
Since last year (2014) she began having tremors at the head. This happens only when she fix an object or if she wants to catch it (as when hunting for example). Following a visit to the vet and a blood test, no conclusive results came out to determine the cause of the tremors. This is not a deficiency nor an overdose of UVB or calcium or vitamins (again according to the blood test and the tests we have made throughout the year (changing supplements, kinds of bulbs, etc.)). Because we find no environmental cause and no other of our dragons has these symptoms, we think that the problem could possibly be of genetic source.
It is for this reason that we prefer not to reproduce her again. Euthanasia is not an option. Peach eats, jumps, runs, moves... She lives well and nothing leads us to believe that she is suffering due to her condition. Only her tremors appears and people tend to find that she makes "pity", but no, she is doing like all the others, and do not need any special care. We want to find a serious family who will take care of Peach for the years she has left. Obviously, we ask that she is not reproduced because we do not know if her tremors problem is genetic.