"Pirate" - 2015 - Uromastyx geyri

Maintenant dans une bonne famille! Merci! / Now in a good home! Thank you!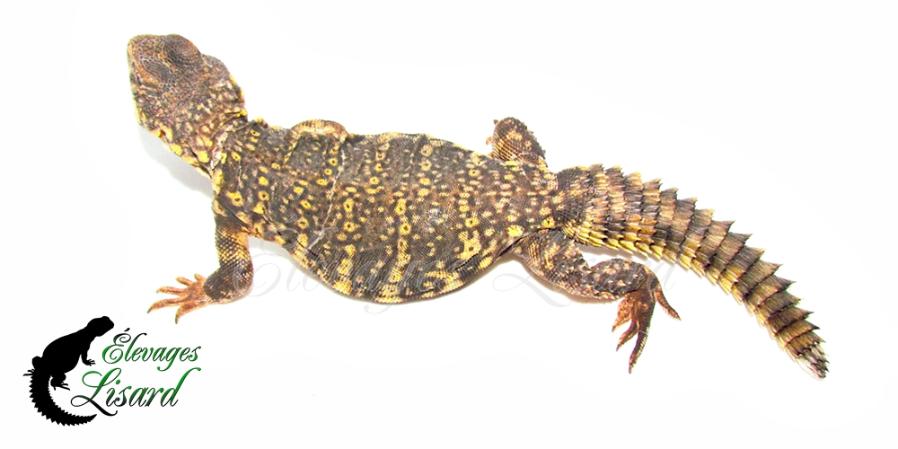 Son histoire:


Pirate est une gentille femelle Uromastyx geyri qui provient d'une femelle qui a été importée en 2012 alors qu'elle était gestante (
UWCF & UWCM 2012 #4)
. Un fois chez nous, elle a pondu des œufs et nous les avons incubés avec succès. Le père est donc inconnu d'où son nom ("
Unknown Wild Caught Male
"). La mère est malheureusement décédée peu de temps après avoir pondu.
Cette belle femelle jaune a un petit défaut de naissance. Elle est née avec un œil plus petit que l'autre (une condition appelée micro-ophtalmie). Ceci ne semble pas la gêner dans son quotidien car elle a bien grossit depuis sa naissance. Elle avait trouvé une famille en 2012, mais il est présentement à la recherche d'une nouvelle famille.

Her story:


Pirate is a kind Uromastyx geyri female from a female that was imported in 2012 while she was gravid (UWCF & UWCM 2012 #4). Once in captivity, she laid eggs and we incubated them successfully. The father is unknown, hence its name ("Wild Caught Unknown Male"). The mother unfortunately died shortly after egg-laying.

This beautiful yellow female has a small birth defect. She was born with one eye smaller than the other (a condition called micro-ophthalmia). This does not seem to interfere in her daily life because she has grown well since birth. She had found a family back in 2012, but is currently looking for a new family.