Cassis - 2017 - Uromastyx ocellata

Maintenant dans une bonne famille! Merci! /
Now in a good home! Thank you!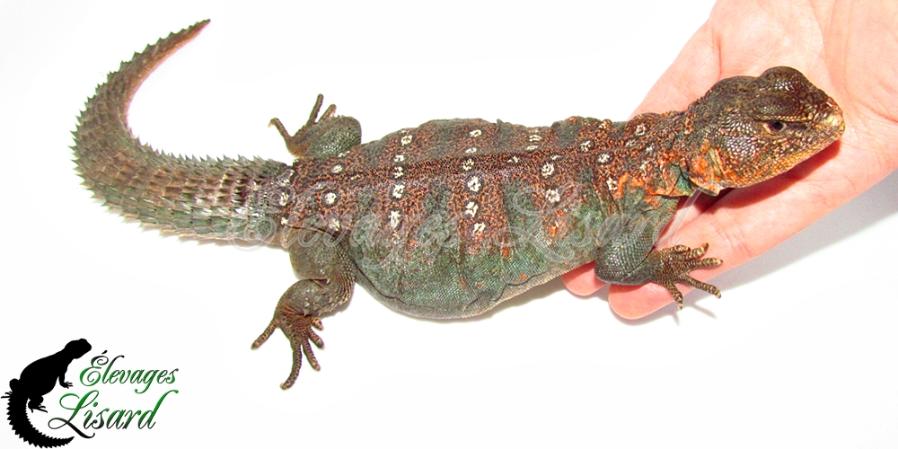 L'histoire de Cassis:


Cassis est une femelle Uromastyx ocellata qui a été capturée en nature et importée en 2006. Nous estimons qu'elle est née vers les années 2000, ce qui lui donnerait environ 17 ans. C'est une de nos premières reproductrices et elle a donné une belle descendance de petits bébés ocellata qui se retrouvent maintenant partout au Canada.
Elle semble encore en pleine forme, mais nous voyons que c'est plus difficile pour elle de se remettre d'une ponte, alors nous avons décidé de la retraiter. Elle est très curieuse et malgré son âge elle est toujours sortie et active. Elle n'est pas peureuse. Nous ne la manipulons pas car elle n'aime pas cela et nous ne l'avons jamais forcée à le faire. C'est vraiment un animal à observer mais elle accepte facilement d'aller chercher des gâteries dans nos mains.
Nous ne savons pas quelle sera exactement sa longévité… 3 ans? 5 ans peut-être? Qui sait! Habituellement on parle de 20-25 ans pour les Uromastyx ocellata donc nous cherchons un foyer qui pourra lui offrir une belle retraite.


The story of Cassis:


Cassis is a female Uromastyx ocellata that was wild caught and imported back in 2006. We believe she was born around 2000, which would give her about 17 years. She is one of our first Uromastyx breeders and she has given us a lot of small babies ocellata that are now living everywhere across Canada.
She still looks great and healthy, but we see that it's harder for her to recover from laying, so we decided to retire her. She is very curious and despite her age she is always out and active. She is not afraid of us. We do not handle her because she does not like it and we never forced her to do it. It is really an animal for observation but she will easily accept to take treats from our hands.
We do not know for how long she will live... 3 years? 5 years maybe? Who knows! Usually we talk about a longevity of 20-25 years for the Uromastyx ocellata so we are looking for a new home that will offer her a beautiful retirement.