César - 2018 - Uromastyx yemenensis

Maintenant dans une bonne famille! Merci! / Now in a good home! Thank you!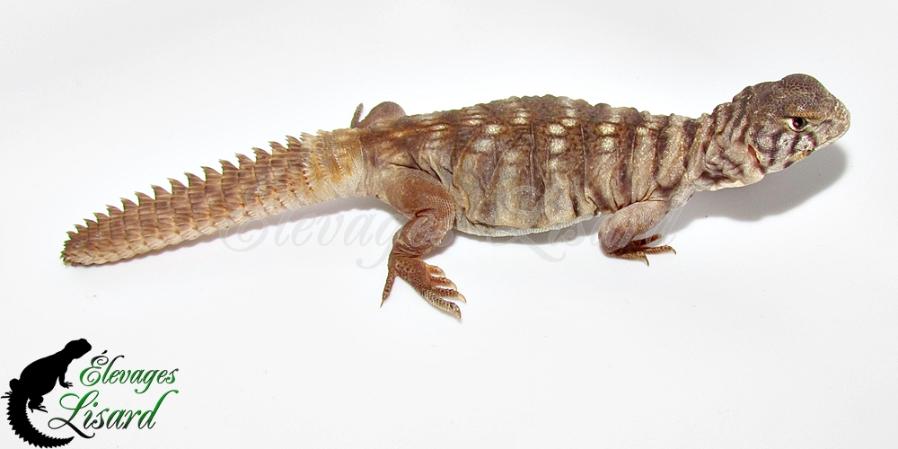 L'histoire de "César":


César (probablement mâle) provient de la toute première reproduction de Ginger et Orion. À l'été 2018, lors de la ponte, Ginger a eu beaucoup de difficulté à pondre ses œufs, ils étaient immenses comparativement à la grosseur normale. C'était une ponte très difficile et nous avons même eu peur de la perdre. Finalement, tous les œufs sont sortis et Ginger a bien récupéré, mais un seul oeuf a survécu. C'est ce bébé qui en est sorti. À la naissance, son ventre n'était pas tout à fait refermé (là ou le sac vitelin se rattache). En fait, il était fermé mais avec une petit peau transparente sans écailles au lieu d'être opaque (voir image). Avec le temps, la « plaie » s'est bien refermée et c'est maintenant un tissu cicatriciel. Nous croyons qu'avec le temps et lorsqu'il va grandir, ce sera de moins en moins apparent. Aussi, on peut remarquer que son bout de queue est rond. La pointe de sa queue est là, mais elle était pliée dans l'œuf et elle est resté comme cela. Ceci est essentiellement esthétique et ne pose pas de problème à l'animal.
Ce bébé est également né avec un autre problème, plus difficile à décrire. Ses mouvements sont parfois saccadés. Il semble aussi avoir plus de difficulté à garder son équilibre lorsqu'il est grimpé sur une branche. Parfois on le voit bien que ses mouvements ne sont pas fluides comme ceux d'un autre Uromastyx, parfois il semble normal, donc ce n'est pas toujours très apparent. Il est comme cela depuis sa naissance donc on pourrait penser à un problème de développement de l'embryon.
Malgré ceci, il est curieux et gourmand. On aimerait qu'il soit adopté par une famille plus expérimentée, même s'il ne nécessite aucun besoin particulier car il est 100% autonome. C'est une espèce rare, mais nous aimerions qu'il ne soit pas reproduit et qu'il reste un animal de compagnie seulement.

The story of "Caesar":


Caesar (probably male) comes from the very first reproduction of Ginger and Orion. In the summer of 2018, at the time of laying, Ginger had a lot of trouble laying as the eggs were huge compared to the normal size. It was a very difficult time and we were even afraid of losing it. Finally, all the eggs came out and Ginger recovered well, but only one egg survived. It's this baby who came out. At birth, his belly was not completely closed (where the yolk sac is attached). In fact, it was closed but with a small transparent skin without scales instead of being opaque (see image). Over time, the "wound" has closed well and is now a scar tissue. We believe that with time and when he will grows more, it will be less and less apparent. Also, we can notice that the end of his tail is round. The tip of his tail is there, but it was bent in the egg and it stayed like that. This is essentially aesthetic and does not pose a problem to the animal.
This baby is also born with another problem, more difficult to describe. His movements are sometimes jerky. He also seems to have more difficulty keeping his balance when he climbs a branch. Sometimes we can see that his movements are not fluid like those of another Uromastyx, sometimes it seems normal, so it's not always very apparent. It is like this since birth so one could think of a problem of development of the embryo.
Despite this, he is curious and glutton. We would like him to be adopted by a more experienced family, even if he does not require any special needs because he is 100% autonomous. It is a rare species, but we would like it not to be reproduced and that it remains a pet only.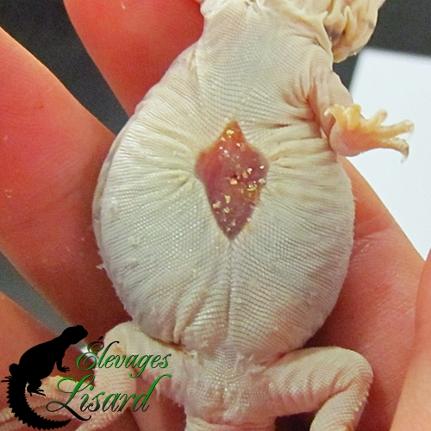 À la naissance / At birth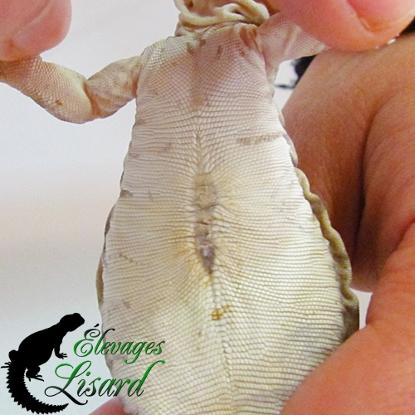 Début 2019 / Beginning of 2019