Jasper - 2020 - Uromastyx ornata

Maintenant dans une bonne famille! Merci! / Now in a good home! Thank you!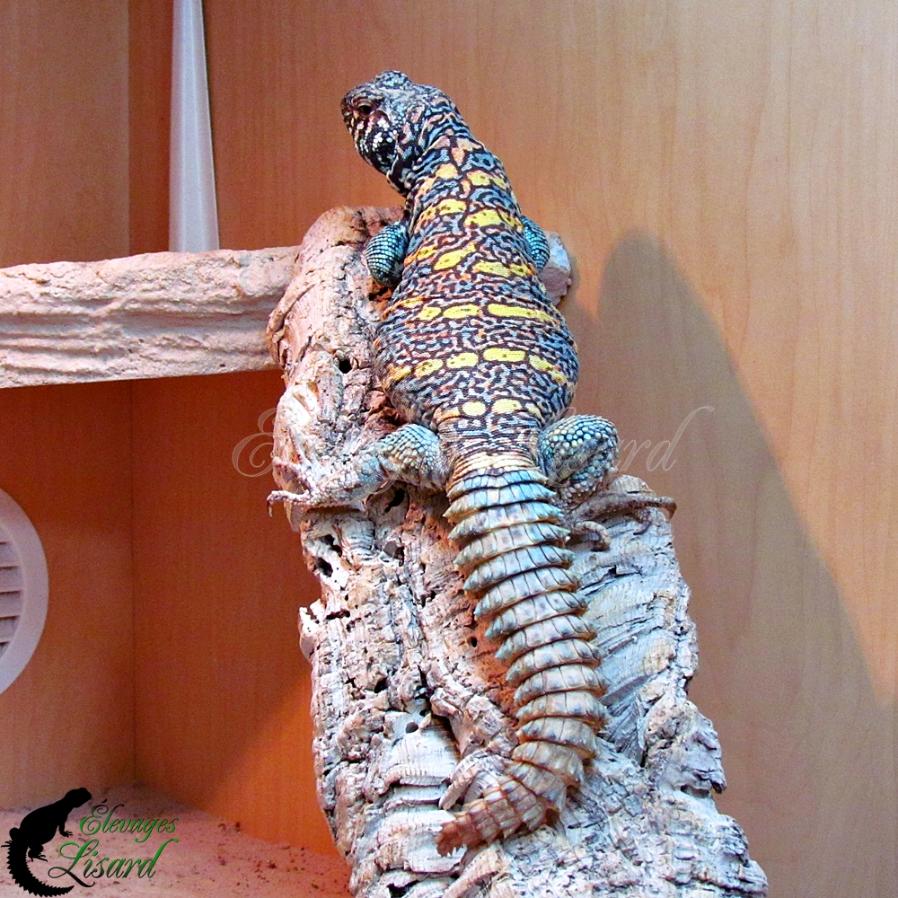 L'histoire de Jasper:


Jasper est un Uromastyx ornata qui est arrivé avec nous en 2016 alors qu'il était encore bébé. Nous étions déjà sa 3e famille (au minimum). On nous a dit qu'il était très craintif et agressif.

Effectivement, il était très craintif. Son agressivité était due à son stress et était présente si on le forçait à se faire prendre (donc évidemment, nous l'avons respecté). Au début, nous ne pouvions pas être dans la même pièce que lui sans qu'il ne se sauve. Si on le regardait, il se cachait. Avec le temps et la patience, nous avons réussi à le rendre à l'aise avec notre présence. Maintenant, il ne se cache plus et il vient même chercher sa nourriture préférée dans nos mains. Nous ne l'avons jamais forcé à être manipulé et nous ne croyons pas qu'il est prêt à cela non plus. Il n'est pas agressif, mais peut tenter de fouetter avec sa queue s'il se sent prit. Donc ce serait un animal d'observation surtout, avec possibilité d'amélioration avec le temps et de la patience.

En 2018, après les accouplements, Jasper a eu un prolapsus d'un de ses hémipenis. Étant incapable d'être replacé à l'intérieur, il y avait nécrose et nous avons dû le faire amputer (oui, c'est assez tragique!). Heureusement, les lézards ont 2 hemipénis alors nous étions confiants qu'il pourrait se reproduire l'année suivante encore, avec son autre. Malheureusement, en 2019 Topal (la femelle avec qui on l'accouplait) a pondu des œufs infertiles. Ceci nous indique qu'il n'a pas été capable de s'accoupler avec elle avec succès. Ceci ne veut pas dire qu'il est 100% infertile, mais comme les Uromastyx ne se reproduisent qu'une seule fois par année, nous ne pouvons pas prendre le risque de perdre des pontes à chaque fois que nous faisons un essai avec ce mâle.

Nous aurions aimé garder ce magnifique mâle qui est un des plus colorés que nous ayons eu. Nous souhaitons lui trouver une famille qui respectera son besoin d'être laissé seul et qui pourra faire de petits pas dans la bonne direction avec lui. Nous recherchons donc des gens expérimentés qui ont plusieurs lézards ou encore qui ne ressentent pas le besoin de manipuler un lézard. Il ne serait pas conseillé pour des enfants.

Jasper adore faire de la roue, et depuis qu'il en a une nous avons vu une amélioration au niveau de sa confiance. Ce serait un bon accessoire à avoir dans son terrarium une fois chez sa future famille.

Comme nous sommes présentement en pandémie de Covid-19, nous ne pourrons malheureusement pas faire de visite pour ce lézard. Nous privilégierons une expédition ou un ramassage sans contact.

Merci de votre compréhension.

The story of Jasper:


Jasper is an Uromastyx ornata who arrived with us in 2016 while he was still a baby. We were already his 3rd family (at least). We were told that he was very fearful and aggressive.

Indeed, he was very fearful. His aggressiveness was due to his stress and was present if he was forced to be handled (so obviously we respected him). At first, we couldn't be in the same room with him without him running away. If we looked at him, he was hiding. With time and patience, we managed to make it comfortable with our presence. Now he is no longer hiding and he even comes to get his favorite food from our hands. We never forced him to be manipulated and we don't believe he's ready for it either. He is not aggressive, but may attempt to whip with his tail if he feels trapped. So he would be an observation animal above all, with the possibility of improvement with time and patience.


In 2018, after mating, Jasper prolapsed one of his hemipenis. Being unable to put it back inside, there was necrosis and we had to have it amputated (yes, it's pretty tragic!). Fortunately, lizards have 2 hemipenis so we were confident that he could breed again the following year, with his other one. Unfortunately, in 2019 Topal (the female that mated with it) laid infertile eggs. This tells us that he has not been able to successfully mate with her. This does not mean that it is 100% infertile, but since Uromastyx only once a year, we cannot risk losing eggs each time we try mating her with this male.



We would have liked to keep this magnificent male who is one of the most colorful we have had. We want to find him a family who will respect his need to be left alone and who can take small steps in the right direction with him. We are therefore looking for experienced people who have several lizards or who do not feel the need to handle a lizard. He would not be advisable for children.

Jasper loves to run in his exercise wheel, and since he has one, we have seen an improvement in his confidence. It would be a good accessory to have in his terrarium once in his future family.

As we are currently in a Covid-19 pandemic, we will unfortunately not be able to offer a visit for this lizard. We will prefer a shipment or a contactless pickup.

Thank you for your understanding.