Acacia & Yuri 2013 #5 - 2022 - Uromastyx ocellata

Maintenant dans une bonne famille! Merci! / Now in a good home! Thank you!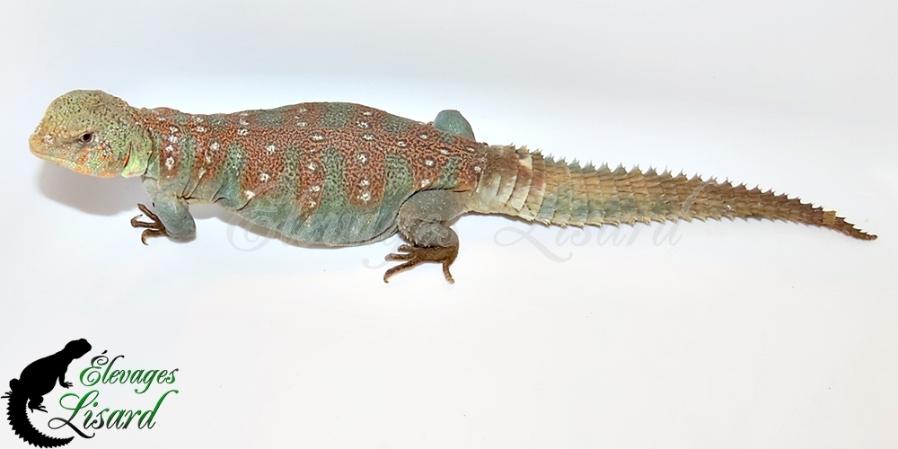 L'histoire de "Acacia&Yuri2013#5":


Cette belle femelle Uromastyx ocellata, issue de l'accouplement d'Acacia & Yuri en 2013, a vécu dans la même famille pendant 8 ans. Malheureusement, cette famille a eu des choix difficiles à faire et cette belle femelle est revenue chez nous.

Elle est en super forme et est vraiment très curieuse et facile à manipuler. Elle mange bien et affectionne particulièrement la moulée pour tortues herbivores de ZooMed (Natural Grassland Tortoise Food) ainsi que les lentilles vertes germées.

Elle pourrait être dans une famille avec des enfants puisqu'elle est vraiment facile d'approche. Un adulte a l'avantage d'être déjà plus gros et déjà plus coloré qu'un bébé. On connait également son tempérament un peu mieux et l'adulte est généralement moins énergique/énervé qu'un bébé.

Cette espèce peut vivre jusqu'à une vingtaine d'année, donc il lui reste encore beaucoup de temps devant elle.

Comme nous sommes présentement en pandémie de Covid-19, nous avons une méthode différente pour les visites. Cliquez ici pour en savoir plus.

Merci de votre compréhension.

The story of "Acacia&Yuri2013#5":


This beautiful Uromastyx ocellata female from the mating of Acacia & Yuri in 2013, lived in the same family for 8 years. Unfortunately, this family had difficult choices to make and this beautiful female came back to us.

She is in great shape and is really very curious and easy to handle. She eats well and is particularly fond of ZooMed's Natural Grassland Tortoise Food and sprouted green lentils.


She could be in a family with children since she is really easy to approach. Adults have the advantage of already being bigger and more colorful than babies. We also know her temperament a little better and adults are generally less energetic/nervous than a baby.

This species can live up to 20 years, so she still has a long happy life to live.


As we are currently in a Covid-19 pandemic, we have a different method for visits. Click here to find out more.


Thank you for your understanding.