Borealis - 2022 - Uromastyx geyri

Maintenant dans une bonne famille! Merci! / Now in a good home! Thank you!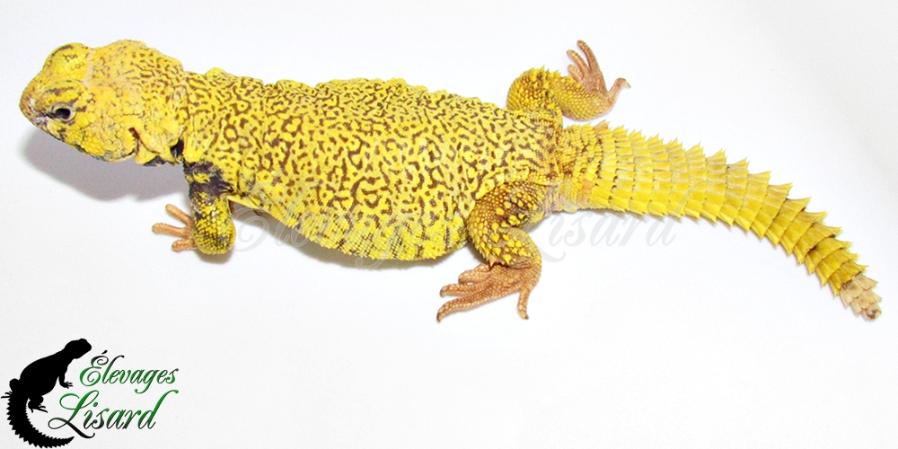 L'histoire de Borealis:


Borealis est un beau mâle jaune qui est ici depuis sa naissance (2014), mais il n'est pas issu de nos reproducteurs. C'est un bébé qui provient d'une portée que nous avons incubée pour un client. Nous l'avions gardé dans le but d'avoir un mâle pour reproduire notre femelle Aurora qui a le même âge que lui. Ils ont cohabité ensemble plusieurs années sans se reproduire, et ce, même lorsqu'ils ont atteints la maturité.
Quand nous avons constaté que la reproduction ne fonctionnait pas avec ces deux-là, nous avons changé les couples. Nous avons présenté une autre femelle à Borealis (Sunkist), qui était très intéressé par elle. Cependant, encore une fois, il ne s'est pas accouplé. Cette femelle se reproduisait habituellement à chaque année.
Donc malheureusement, comme la reproduction d'Uromastyx se fait une seule fois par année, nous ne pouvons pas nous permettre d'essayer de prendre une chance encore avec lui l'an prochain. Malgré nos beaux projets, nous devons le laisser aller et lui trouver une famille qui saura en prendre bien soin.
Borealis est vraiment gentil. Il est calme et curieux. Il pourrait convenir à une famille avec enfants ou pas. Il est spécial puisqu'il a un œil normal et un oeil tout noir.

The story of Borealis:


Borealis is a beautiful yellow male who has been here since his birth (2014), but he is not related to any of our breeders. This is a baby from a clutch that we incubated for a client. We kept him in order to have a male to reproduce our female Aurora who is the same age as him. They lived together for several years without reproducing, even when they reached maturity.
When we found that breeding wasn't working with those two, we changed the pairings. We introduced another female to Borealis (Sunkist), who was very interested in her. However, again, he did not mate. This female usually bred every year.
So unfortunately, as Uromastyx only breeds once a year, we can't afford to try and take a chance with him again next year. Despite our beautiful plans, we have to let him go and find him a family who will take good care of him.
Borealis is really nice. He is calm and curious. He could be suitable for a family with children or not. He is special because he has one normal eye and one all-black eye.