Because our services are available only locally, this page will not be translated.
Certificat cadeau / Gift Certificate

Tous les prix affichés sont sujets aux taxes applicables / All prices are subject to applicable taxes
Élevages Lisard offre maintenant la possibilité à ses clients d'offrir des certificats-cadeaux.
Que ce soit pour Noël, l'anniversaire d'un de vos proches ou amis ou même une autre fête, bref, peu importe la raison, vous pouvez maintenant offrir en cadeau un certificat-cadeau Élevages Lisard du montant que vous désirez*.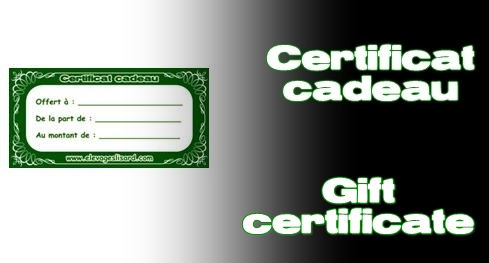 Nos prix / Our Prices:
Ce que vous désirez offrir!*
What you what to offer!*

* D'un montant minimum de 10$ / Minimum amount of 10$.