Because our services are available only locally, this page will not be translated.
Test d'UVB / UVB Testing



Tous les prix affichés sont sujets aux taxes applicables / All prices are subject to applicable taxes
Élevages Lisard offre maintenant à ses clients la possibilité de tester les ampoules et fluorescents UVB.
Vous avez acheté du matériel usagé et ne savez pas si les ampoules et/ou fluorescents UVB sont encore bons? Vous vous demandez pourquoi jeter ou changer vos ampoules aux 6 mois ou au an, si ceux-ci émettent peut-être encore assez de rayons UVB? Voilà toutes de bonnes raisons pour faire vérifier les niveaux d'UVB émis par vos ampoules et fluorescents.
Cela vous permet de sauver de l'argent, en achetant moins d'ampoules et de fluorescents UVB généralement dispendieux.
De plus, suite aux résultats de ce test, si vous décidez de changer immédiatement votre fluorescent et de l'acheter chez nous, nous vous créditerons le coût du test pour l'achat d'un nouveau fluorescent UVB.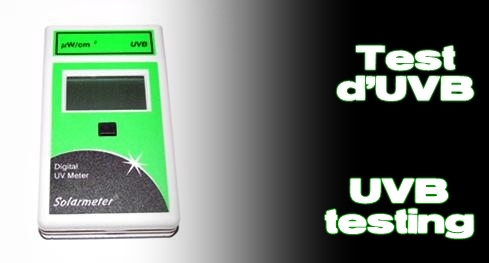 Nos prix / Our Prices:
5$ chaque / each